Sharky Neural Network
Classification neural network in action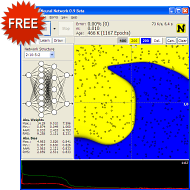 Free software for playing with neural networks classification.


Major features
Easy, ready to play with.
Live view.
Many network architectures.
Different shapes of training data sets.
Learning with backpropagation algorithm.
Optional momentum.
Applications
Education

To understand neural networks better.
Sharky Neural Network keywords
neural network, neural networks, snn, sharky, classification, recognition, ai, artificial intelligence, ci, computational intelligence, backpropagation, supervised learning, machine learning, neuron, perceptron, education.
---
Read more: